Or in other words, the book signing where everything went wrong.
It started with me thinking I had plenty of time. That's always a mistake. So there I sat, in my house, checking my email. It was 2pm and my book signing wasn't until 4:30pm. I was thinking about how I'd shower at 3pm and we'd leave when my 5-year-old got off the bus at 2:45pm...
Freeze. Something was wrong with that time table. All of the sudden I realized that meant I needed to shower NOW. So I spazzed and hopped in the shower with my alarm set to go off at 2:30pm. See, they're really careful with the Kindergartners around here (no complaints). None of them can get off the bus if their mom/dad is not standing out there waiting for them. Just in case the bus should come early, I try to get myself out there before 2:45pm, because I sure don't want to drive out to the school and gather up my poor child.
I showered quickly, got dressed, and ran out the door to wait for the bus. I didn't have time to blow dry my hair, so I figured we'd get a bit of a late start.
The bus happened to be ten minutes late.
By the time we got back into the house, it was 3pm. I was starting to feel a bit tense.
I was blow drying my hair when the electricity went out. What the ?!??? Did I blow the fuse? No, it turned out the electricity was out IN TWO CITIES. (Too much A/C people? Sheesh!) There was nothing left to do but gather up my blow dryer, kids, and make-up and hightail it to my mom's house thirty minutes away, since she was babysitting.
I got to my mom's house, finished my now-awful hair, put on my make-up, and started for the door. Wait. Wait just one moment. With my nice black slacks and black button-up blouse, I was wearing... white flip flops. How the heck did I manage to get out the door with those on???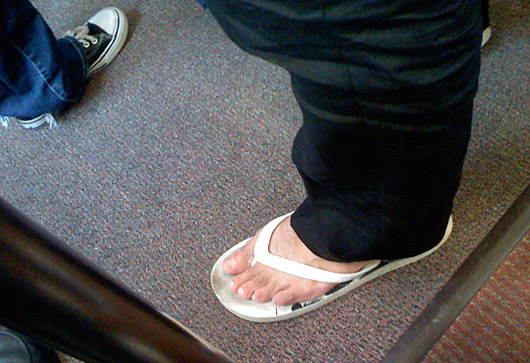 I didn't have time to laugh. And definitely no time to get new shoes. So I borrowed a pair of my mom's. The only problem with that was that I wear a size 7 and my mom's a 5. I couldn't get my foot in her shoe. At least I had long pants; I fit my toes into the front and walked on the back part. Then I took a deep breath and left.
But it wasn't over. I got to the store and the manager had no memory of the email that distribution had sent out saying I was coming (which I know they sent because the CCed me in on it). I called distribution, and they had left already. I was starting to think this signing wasn't meant to happen.
But it did. They accommodated me and we said we'd iron out the kinks on Monday (we did). I put my problem behind me and sold some books.
I also came home with 3 blisters on the left foot and 5 on my right foot. I should've just worn the flip-flops.