My digital camera has lost its charger and I don't know where to find it.
My camera battery is dead.
The point being, I can't show you the loot of goodies that I purchased for
Follower #150, Kate Larkindale.
This picture is a good example, though, and I borrowed it from
Kate Charlottesville's
blog.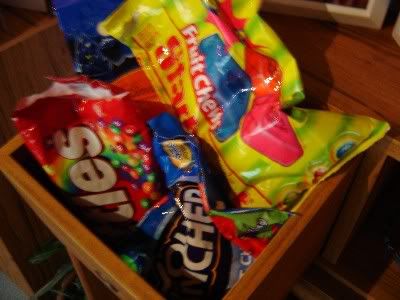 Kate, thanks for following! If someone referred you here, let me know, because they get something too! Send me an email with you address -- tamara at byu dot net -- and I'll get these yummies off to you. (No chocolate--can't risk the melting. Sorry. Yes, I know, chocolate's the best.)
And what's this 'your friends' thing beneath 'your followers'? How is that different? Sheesh, now my followers aren't my friends? Am I supposed to do my recruiting here?
As for me, I'm seriously trying to get my mind off the full MS I just sent in. I know I shouldn't expect a response for at least a month, but that doesn't keep me from getting jumpy every time I have a new email. And I'm having a horrible time getting my thoughts to focus on my next project. All I can think about is the one I just crash-revised.
So this week I am taking a break from writing and working on reviews. I have so many people I promised I'd help review, and I haven't done it. This week's the week. Hopefully by next week, I'll be refocused enough to write some more.
How do you find your focus again when you've lost it? Do you take a break or plow through it?